OTHER SCCA EDITION PONYCARS
The Fabulous Hudson Hornets of the early 1950's and the SCCA street cars seen here owe their existence and success to a gentleman named Vincent Piggins. Vincent moved from Packard to Hudson in the 1950's where he created the severe usage parts and propelled Hudson to the top of the NASCAR record books. He later joined Chevrolet as an engineer, though never formally trained. Facing off against the Herculean task of catching up with the Mustang's racy image, Vincent pushed for a new high performance version that could homologate the new 1967 Camaro AND be used for marketing in the magazines and dealer showrooms all across America. Any Camaro could have been used, but to take advantage of the press and excitement, Chevrolet would be able to offer a replica to anyone who would just walk into their showroom. At the time SCCA was just barely justifying the Trans-Am series, although a year old it hadn't generated much excitement. Personally approached by Vincent, the SCCA leadership encouraged the project and Vincent soon had made serious inroads into Ford's stranglehold on a youthful performance image. With the success of the Z/28 even the almighty Mustang would need to follow Chevrolet's lead and use an image car for homologation. Soon Mercury, AMC, Plymouth, Dodge and Pontiac would create an entire field of factory SCCA replica race cars. Peaking in 1970 then disappearing as quickly as they had appeared.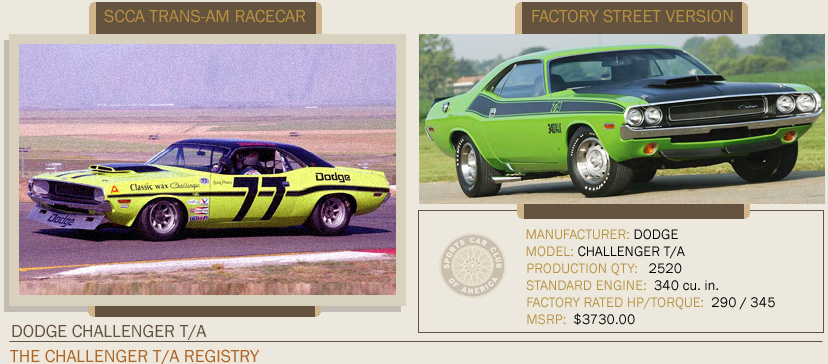 For it's first year, the Challenger was introduced with a dizzying array of options and accessories. This goes too for the Challenger T/A. While Dodge came late to the SCCA Trans-Am series, by time it got started management was already having second thoughts. While the team was well experienced, they were too nose-heavy. The Challenger T/A's just couldn't compete on the road courses of Trans-Am with the heavier weight and less dynamic handling than it's cross town competition. The street cars however, like their Barracuda brethren... were muscle cars in PonyCar clothing. Rugged good looks and stunning straight line performance made the Challenger T/A street cars into terrors. Just as over-the-top as the other guys, the Challenger T/A's flame would burn out after just a single year. Doing with a small block, what other cars could hardly muster with a big block.



TEXT BY BARRY WASHINGTON, OWNER OF THE CHALLENGER T/A REGISTRY: "The purpose of The Challenger T/A Registry is to record the history of each and every Challenger T/A made, and to attempt to put the data collected into a format that is helpful to the owners and admirers of these cars. As you may know, Chrysler did not keep complete records of the muscle car era, so trying to build a database of this type 30 years after they were made is not easy. But we have come a long way in just a few years and there is no telling at this point where it will end. I do hear about new cars, mismatched broadcast sheets, engines, and other paperwork all the time. I was very surprised when the list hit 800 T/As, and then we went over 900 T/As about a year after that. We currently have over 1300 of the street cars recorded. As you can imagine, this takes a lot of time and keeps me very busy, but I enjoy helping people and running the Registry very much. I can not do this by myself, I need all the help that I can get. The Registry members are a family of sorts, and every one of them has contributed to the database in one way or another. You are all my eyes and ears, and the information that has been collected so far is due to hundreds of people who took the time to tell me about a car they saw, one they used to own, a broadcast sheet they found in a bucket seat, and so on. I depend on all of you. The Registry would not be where it is today without each of you.
Barry Washington"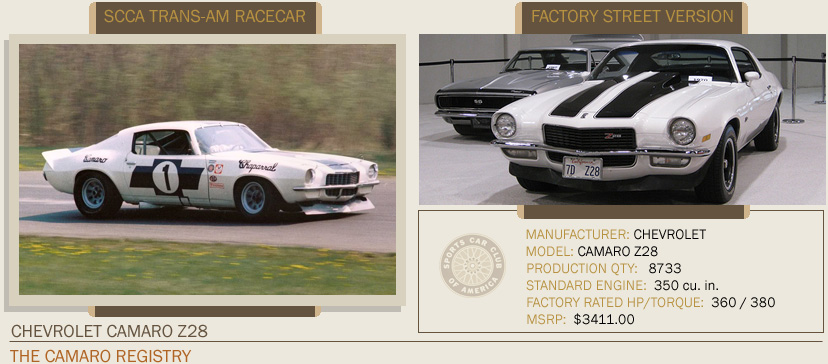 All new for 1970, the Chevrolet Camaro Z/28 got a slow start due to a late introduction. To Chevy fans it was well worth the wait. Wrapped in a sleek and racy package with a more European flair, Z/28s now looked more sophisticated than in the past. Thanks to the new SCCA rule allowing base motors to be reduced, the street version's displacement grew along with increased power and performance. The new slippery body along with hundreds of man-hours in aerodynamic testing and development meant the Z/28 would have a leg up in Trans-Am. Unfortunately for 1970 Chevrolet lost their championship Penske team and had to start over, never really gaining their footing. The street Z/28 however was a sales success, selling 8733 units and winning praise from the automotive media for it's handsome looks and high performance Corvette motor.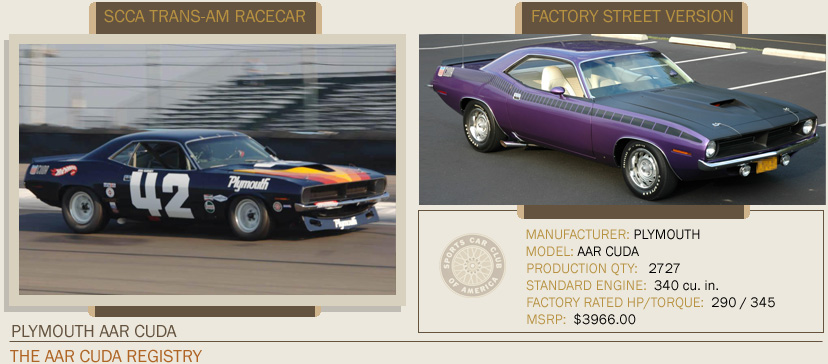 The Plymouth Barracuda started life as a youth oriented compact car. Although the earlier Barracudas competed in SCCA racing, it wasn't until 1970 that Chrysler dove in head first with the AAR Cuda version of it's all-new body style. Named after Dan Gurney's famous All American Racers, the production AAR Cuda used a high-performance tri-power 340 motor with a choice of automatic or 4-speed trans. Standard gearing was 3.55 or optional 3.91, both with posi-traction "Sure-Grip". A standard matte-black fiberglass hood with Ram-Air, rally rims and rear spoiler were added to mimic the Trans-Am SCCA racecar. Heavier and less nimble than the other SCCA PonyCars, the AAR cuda was geared more towards muscle car than pony car. What it lacked in agility it made up for in aggressive styling and brutish straight line performance.

The Internet's online Plymouth 'Cuda AAR Registry has merged with original AAR Plymouth 'Cuda Registry to form the authoritative source for AAR Plymouth 'Cuda production with over 1300+ AAR VINs now in the Registry! The size of the AAR Registry speaks for itself, most choose to Register their AAR here! Listed are such desirable options as paint color code, auto (D32) or manual (D21) transmission, elastomeric bumpers (A21/A22), rallye dash (A62), rear louvers (A67), 3.91 axle ratio (D57), front spoilers (J78), wheel lip moldings (M26), fast ratio steering (S74), vinyl roof (V1X), and US Specs (Y05) or Canadian Specs (Y07).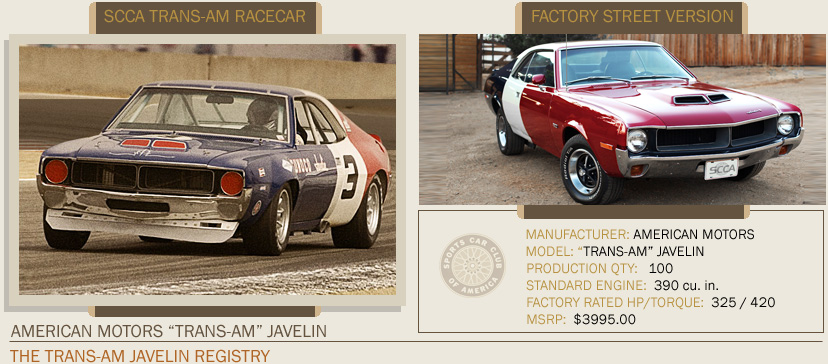 Introduced in September of 1969, the limited edition Trans-Am Javelin was introduced in time to promote the 1970 SCCA Trans-Am Season. 100 limited edition units were manufactured at AMC's Kenosha plant, pulled from the standard production line and painted in factory Red, White & Blue to replicate the Javelin Racing team colors. All 100 cars featured a high-performance 390 with factory ram-air induction, a Hurst shifted T-10 4 speed transmission, 3.90 posi-traction rear end and special Goodyear raised white letter performance radials. Factory body modification include the deletion of body side graphics and trim, custom Trans-Am homologated front cow-catcher and a Ronnie Kaplan designed rear adjustable "air-foil" style spoiler. Originally conceived in 1968 to showcase factory sponsored Ronnie Kaplan's SCCA Trans-Am racing team, the final cars came to market just in time to showcase the new AMC / Penske Javelin Racing Team. Only 30+ of the original 100 cars have been discovered and are currently registered through the Trans-Am Javelin Registry.

Collecting and documenting information on these limited edition AMC cars, the Trans-Am Javelin Registry has set a goal of 40 cars by 2012. We encourage both AMC and non-AMC owners to learn about these limited edition performance cars and help us spread the word about American Motor's entry into the PonyCar wars. All owner and vehicle information submitted to the registry is kept private. Please support our site with any information you may have pertaining to these cars!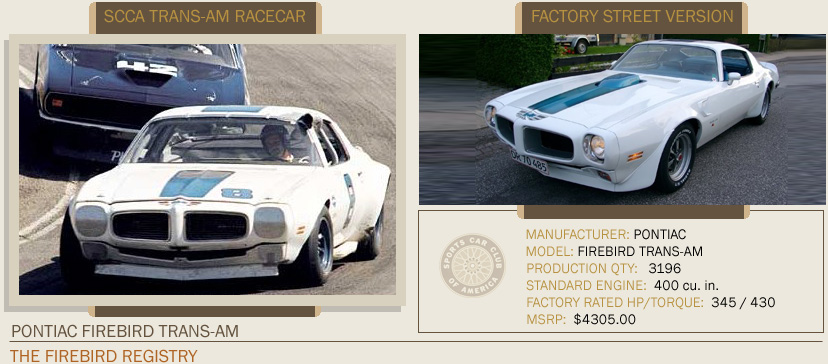 Comming Soon...

Comming Soon...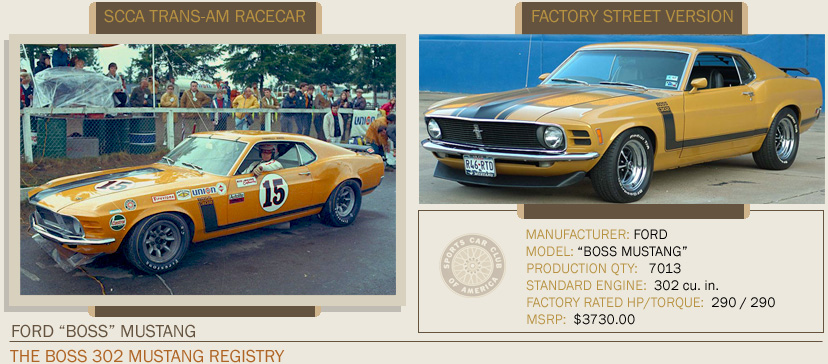 The Boss 302 was Ford's best effort yet at SCCA racing. It had to be. While the Mustang was the original PonyCar, Ford received a challenger in the SCCA Trans-Am with the introduction of the Z28 Camaro. For 1970, Ford continued to up the ante with evolved aerodynamics and improved engine design. Both professional road course cars and street versions sharpened their handling chops. While the Z28 street car could sprint quicker, the Boss 302 was a car that relied on balance. Maintaining momentum around corners and through turns, the Boss 302 put Ford back in the position it wanted to be in for 1970.


TEXT BY RANDY REAM, OWNER OF THE BOSS 302 REGISTRY: "The factory BOSS 302 Trans-Am Mustangs started life as regular Mustang Sportsroofs, since the BOSS 302 Trans-Am development started many months before the street BOSS 302 Mustangs were into production. It was also cheaper for FORD to use fastbacks with just the basics, because the cars were stripped down and rebuilt anyway. So the race cars were not built up from production BOSSes for two reasons; time and money, critical to any racing program. In 1969, the basic construction of the Trans-Am cars was done by Kar Kraft in Dearborn, MI. FORD's high performance and racing division. Two teams raced the cars that year. The Shelby Racing Company and Bud Moore Engineering. The first two cars built by Kar Kraft were prototypes with one going to each team for development and testing. An additional car was also built and delivered to Smokey Yunick, but it never saw any action in the Trans-Am series. In all of the Trans-Am BOSSes, Kar Kraft installed roll cages and a heavy duty and highly modified suspension which included traction bars, extra heavy springs and sway bars, racing brakes and all the moving parts were attached with heim joints instead of rubber bushings. The cars also received fuel cells, full race BOSS 302 engines with 460 H.P., aluminum radiators and a lightweight and durable stainless steel exhaust system. After the teams received their cars, they made their own refinements and then the final adjustments before each race. The cars competed in 13 events during the 1969 season. Although they didn't win the championship that year, they won several races and proved themselves as very worthy race cars. Few refinements were made on the cars for the 1970 season and, in fact, only two new cars were built. FORD also decided to run only one team that year, Bud Moore Engineering. All of the old 1969 Shelby team cars and parts were given to Bud More and along with his own 1969 cars, they were converted to 1970 specs and used as back-ups during the season. Although the two new 1970 cars were used most of that year, a couple of the converted 1969's were also raced and won races in 1970. The BOSS 302's dominated the 1970 series and clinched the championship with only one race still remaining. At the end of 1970, FORD withdrew from all racing activity. Kar Kraft was sold and all the remaining cars, parts and fabricating fixtures were given to Bud Moore. He then completed at least three new 1970 Mustangs, along with updating one of the primary 1970 cars for competing in the 1971 Trans-Am season. The "new" 1970 cars built for 1971 had no serial numbers, as FORD had begun to use "body in white" (empty uni-body shells) for the Trans-Am racing program. The remaining 69 and 70 ex-factory Mustangs were then sold to independent racers by Bud Moore. Not having solid sponsorship for 1971, the BOSSes Bud Moore Engineering raced didn't compete in all the Trans-Am races that year, but still managed to come in second behind the only factory sponsored team, AMC Javelin. After the 1971 season, the ex-factory and Bud Moore Trans-Am BOSSes began to fade into history. A few continued to be raced over the years and others were destroyed or lost, probably forever. Today, many of these cars have resurfaced and are being restored or driven again on the vintage racing circuits."

What is a BOSS 302? It's a car, right? No, it's an engine. Well, yes, it's an engine and a car. Actually, it's car, a Ford Mustang, named for an engine, a special purpose built race engine. The Ford BOSS 302 Mustang, built for model years 1969 and 1970, is named for its engine. So which came first the car or the engine? The car. The Ford Mustang was introduced on April 17, 1964. In the 1960's, Ford was heavily involved in racing. The catch phrase was, "Win on Sunday, sell on Monday." In 1966 and 1967, Ford, with the help of Carroll Shelby and his Shelby-American company, raced Mustangs in and won the Sports Car Club of America (SCCA) Trans-American (Trans-Am) Sedan Racing series. Read more at Boss 302!


Comming Soon...

Comming Soon...