History is never set in stone. Even 40 years later we're still finding new information and reinterpreting old perceptions of these cars. If you have historical contributions we welcome submissions! Registry@TAJavelin.com
SCCA TURNS PROFESSIONAL WITH TRANS-AM


The SCCA Trans-American racing series was an irresistible opportunity for the American automakers. It allowed the manufactures to compete openly against each other in ways that hadn't been publicly acceptable since the AMA racing ban of 1957. The manufacturers found ways to meddle in smaller venue drag racing, but SCCA offered a chance to conduct an all-out war with each other in broad daylight and in front of millions of potential customers.

While early American SCCA cars were raced by independent racing teams with minimal factory support, a large influx of factory backing started to swell with the introduction of the new Ford Mustang and to a lesser extent the compact Plymouth Barracuda & Chevy Corvair. Ford's interest laid in building a hotter performance image in the youth market and to accomplish this they brought in racing legend Carrol Shelby who developed the first serious factory backed SCCA PonyCar team. While Chrysler's little Barracuda made an effort, it was hardly a serious competitor. The landscape would change however, with the introduction of SCCA's addition of the new Trans-American racing series in 1966. Not to be outdone, GM jumped in with the introduction of their all new 1967 Camaro which offered Chevrolet a chance to capture it's own slice of the PonyCar market and their own racing glory with two successful championship wins.

In 1967 American Motors started working on their own efforts to introduce a PonyCar and in-turn a racing team for the Trans-American series. By 1968 the Javelin was hitting it's mark thanks to a rushed effort headed by Ronnie Kaplan. With the Javelin on the fast track, it only took 2 months to get the cars fielded and competing. The last player to join the PonyCar field was Chrysler who got a late start with a factory backed team for the 1970 season. 1968-1970 would prove to be the golden years of SCCA's Trans American Racing series in both popularity and participation.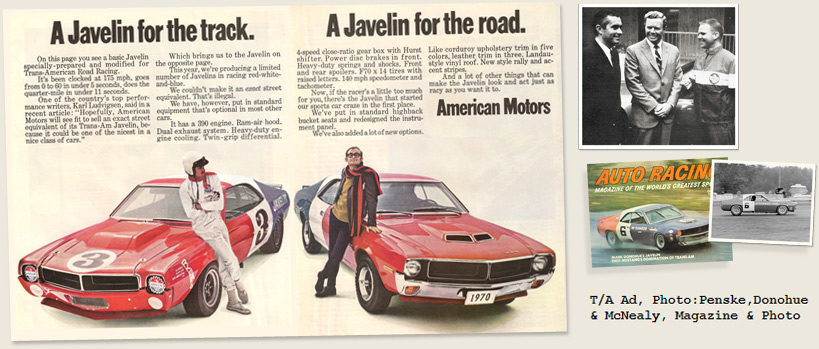 SCCA & FIA CAR HOMOLOGATION RULES
When Manufactures looked into Trans-Am they found that in order to compete in the series, racing teams had to run a factory available model that met the minimum production quantities of that years FIA rule book. The term of certifying these specific models and factory parts was called homologation. To meet the rules manufacturers introduced street replicas that would also create excitement among enthusiasts. Ford built and homologated the Boss Mustang while Chevy offered and manufactured the Z28 Camaro. It was decided that American Motors would have to follow the lead and introduce their own Trans-Am limited edition for 1970. Mercury too jumped on the band wagon and offered the 302 Eliminator, Plymouth the AAR Barracuda and Dodge introduced the Challenger T/A. Some cars like the Boss did the trick and were granted certification while others like the Z28 didn't meet deadlines and weren't granted certification. Like Chevy's Z28, American Motors FIA documented car was a standard model with factory homologated performance parts. Soon rules would change yet again, shifting the playing field.
To homologate an entire PonyCar, the actual race cars had to be equipped with the primary equipment that these factory versions wore. This meant that if a car was to feature a rear spoiler or a hood scoop, the easiest way to homologate was to install those parts on the factory-available street replica which would be certified by the SCCA officials through factory documentation and audits. Exceptions had been made for safety equipment, but teams trying to bend or break rules with illegal "upgrades" soon found stiff penalties and sometimes disqualifications at required pre-race inspections.
SCCA did became more flexible on parts as time went on, for example later for 1970 they allowed modifications to the front factory spoilers, then loosened the rule even more to cover just about anything that maintained the parking light cutouts. As Trans-Am grew, so did the efforts by manufactures to circumvent the rules. SCCA was soon in over their heads with shenanigans and found themselves constantly tweaking the rule books during the racing season. This angered racing teams and drivers, however didn't slow down their efforts to creatively go around these rules.
Aftermarket parts had been allowed, however these too had to be homologated for the specific car. In order to run custom or aftermarket parts, SCCA Rules required that the part be homologated with a factory part number that would be stamped into these parts during manufacturing. These parts then had to be added to dealer parts books and be available at a dealer's parts counter. Rules also stated that minimum quantities had to be sold, however as previously stated SCCA was known to bend the rules on occasion in order to keep things competitive or to keep major sponsors happy. Depending on the year and type of part, some had to be sold in either 100, 500, 1000 or 1500 piece quantities. Overall the history of the SCCA & FIA Homologation rules are inconsistent at best. While "official" rules required Chevy to build at least 1000 Z28s for '67, they famously produced only around 600 units of the Z28s by the deadline and were awarded Homologation anyway due to some creative class entries. Ford once introduced a new tunnel port 302 motor that never even hit the production line but was allowed to complete with zero production versions. AMC was written up for a unique fiberglass hood that was run to accommodate a dual-quad setup for '69. It is said they rushed 1500 units to customers, however serious doubts have been raised if 1500 units had ever really been produced.

Enforcement of FIA rules became so sloppy that they eventually played a role in both team & owner disenchantment with SCCA officials and contributed to the eventual exodus from the Trans-Am series. At best, speculation can be made and we can point to consistencies and inconsistencies in the enforcement of Homologated parts and cars, but in the end the SCCA was an overwhelmed organization that couldn't handle the astronomical growth of going from a small scale intimate racing club to a professional racing organization dealing with professional racing teams and the push and pull of tremendously wealthy external influences. To understand a clearer picture of Trans-Am, you need to understand that little was constant and that rules and enforcement sometimes changed with almost no regard for consequences.



HOW THE T/A JAVELIN CAME TO MARKET
In the Fall of 1969 American Motors introduced the newly redesigned 1970 model year Javelin. It wasn't known initially, but because of substantial model year changes the Javelin would have to be re-homologated for the upcoming SCCA competition. Seeing an opportunity to publicize it's efforts in Trans-Am racing, AMC took the bull by the horns and made sure people knew of their intentions to participate in Trans-Am. As mentioned, the latest craze was to homologate a car that was equipt with large brash graphics and bold colors. Other companies found doing this helped them sell more cars. AMC was no different. Instead of being an afterthought, the factory knew that these 100 limited edition Trans-Am Javelins would be offered from the start of the 1970 production run. They purchased oversized multi-page magazine spreads featuring the Pete Revson Javelin on one side and the 1970 T/A Javelin on the other. They also dedicated 2 full pages in their dealer give-a-way brochure following the same format but taken from different angles. Lastly they encouraged top dealers to feature these performance oriented cars in prominent showroom displays.

PRODUCTION CARS & FEATURES
In what couldn't have been a cheap effort, the cars were custom built in small lots. It's claimed these lot sizes were dictated by the floor space available to custom prep and paint this small custom run. All cars featured factory red, white & blue paint schemes mimicking the Kaplan racing team. This scheme encompassed the entire car, including the under carriage, inner doors and door sills. A custom paint code of "00" was issued and stamped into door tags. Unlike the SS/AMX drag cars which were known to have sloppy paint work due to being applied by an outside vendor, AMC took the more expensive route of pulling the T/A Javelins off the line to prep and paint in-house, disrupting production and increasing costs but ensuring that factory quality standards would be met. Once painted the cars went back onto the production line and finished assembly.
The motor chosen for the Trans-Am Javelin was AMC's high performance 390 cubic inch engine with ram-air induction and a mandatory 4-speed manual T-10 transmission with factory Hurst "Competition" performance shifter. A rugged posi-traction rear was installed with stout 3.91:1 gearing. Standard only on TA, special sized Goodyear raised white letter Polyglass F70x14 tires were wrapped around Magnum 500 styled rims and a factory delete order was made for lower stainless and aluminum moldings as not to fight the clean look of the Matador Red, Frost White & Commodore Blue paint scheme.
All 100 cars featured AMCs otherwise optional performance oriented heavy-duty suspension, power front disc brakes, heavy-duty engine cooling, 140mph speedometer and dash mounted tachometer. Because these models were based on of the SST, interior trim was upgraded to higher standards than the standard base Javelin. To help reduce uplift and improve aerodynamics, a custom Kaplan engineered front spoiler was installed under the front clip. It's been stated that possibly not all 100 units came from the factory with this front spoiler, however it is more likely that some spoilers may have been packaged into the trunks during shipment for dealer installation so that the cars could be loaded for delivery without damaging this low hanging piece. It is safe to say that all 100 T/A Javelins included this spoiler. Another unique part only factory installed on the T/A Javelins was the Kaplan engineered adjustable 3-pc rear air-foil spoiler, fabricated from machined aluminum and fiberglass. Mounted for maximum aerodynamics, these rear spoilers were easily adjustable and had been designed by Kaplan Engineering to be faced at a downward forward angle for maximum downward pressure at increased speeds. For aesthetic reasons the T/A cars are mostly seen with the rear spoilers leveled out which aesthetically looks good but is not the intended angle.
All these standard features easily pushed the T/A's list cost over $4000.00 once the dealer fees, taxes, delivery fees and a mandatory factory fuel charge had been added. Not cheap by any stretch of the imagination, but the Trans-Am Javelin wasn't meant to sell. It was a prestige car built for both manufacture and dealer bragging. Just like the SS/AMX project, AMC knew up front that they would be taking a loss on each unit sold, but it was a smart move with deeper motivations. With just 100 units, the purpose was to get the word out and make people aware of AMCs performance achievements. AMC could have easily slipped the special homologation parts into a standard production car, but it would have lost out on a chance to rally its dealers and boost its performance image with the public. It was a very savvy move by a company that was headed in the right direction with youthful performance minded enthusiasts.
Limited Availability
Wanting a Trans-Am Javelin wasn't enough. American Motors made the decision on who was to get one and who wouldn't, and with only 100 units to go around it would be up to Corporate to give them out accordingly. Some units had been sold immediately, other units were kept in the show rooms to grab attention and create traffic. For around $4000.00 a lucky dealership could showcase AMC's racing efforts with their very own in-house Red, White & Blue Trans-Am car on display. It is not known how American Motors chose which of the over 2300 AMC dealers would receive one of the 100 cars, but it is a safe bet that volume and local market played a role. Initially AMC released a memo to dealerships in September of 1969, announcing the production and limited availability of these cars.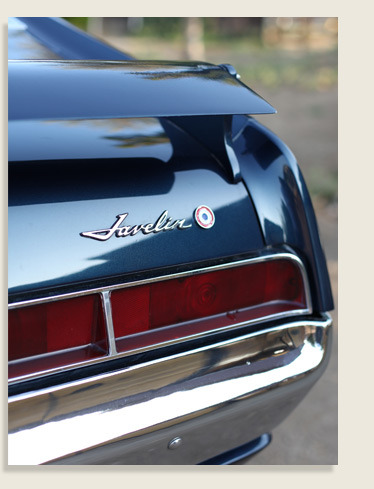 Popular legend states that the Trans-Am Javelin which was developed in either late '68 or early '69 and manufactured in September of 1969 would be left out in the cold by a then unknown SCCA rule change taking effect January 1st which would push homologation minimums up to 2500 units. Even if true none of that would really matter because big changes took place between its 1968 conception and the preparation of the 1970 racing year. Ronnie Kaplan's racing team was out and the Penske/Donohue team was in. Penske added additional homologated parts for 1970, including the well known 1970 Donohue spoiler which was a very efficient knock-off of the spoiler perfected by GM Engineers during the development of Donohue's Camaro. Donohue admitted he didn't know if the new spoiler was any better than the Kaplan spoiler it replaced, but with the money and technology GM applied to create it... it's pretty safe to say it was aerodynamically superior. The T/A's paint scheme was reversed in order and carried over to the new Donohue car. This allowed for continuity and kept the limited edition cars relevant. Looking back these limited production T/A cars remain a unique mix of both Kaplan/Revson & Penske/Donohue race cars. Mingling touches of both racing teams. Mixing the more aggressive Donohue era wide mouthed grille, large ram-air hood scoop and the Kaplan racing air-foil spoiler, front air spoiler and Revson paint order. While the limited edition 1970 T/As match the paint order of the Revson Red, White & Blue car from front to rear, the Donohue car was required by AMC's 3 Million dollar contract to run the T/A's Matador Red, Frost White and Commodore Blue paint scheme matching both the limited edition T/A cars and the factory available paint colors.
WHAT HAPPENED TO ALL 100 OF THEM?
Of the 100 Trans-Am Javelins that American Motors produced, most would have been put into showroom windows and displays in hopes of increasing sales of surrounding cars. When the newness wore off and the publicity was done the cars were sold. We know that at minimum several of the 100 cars were raced in SCCA lower divisions, some cars were babied since new and preserved. One car is storied to have been kept on the dealer floor too long and facing competition with the new 1971 models had been painted a more conservative solid color. Most lived their lives like any other large displacement musclecar. Spent time buzzing the avenue, street racing and eventually had been parked due to gas prices or maintenance costs. With growing interest and better exposure it should be assumed that there are a few more Trans-Am Javelins to be discovered.
Trans-Am Javelin Legacy
The Trans-Am Javelin remains a significant piece of AMC history. Not only marking the victories of American Motors on the tracks from Lime Rock to Elkhart, but even while looking at them at face value we see American Motors created a powerful yet handsome musclecar that could compete with the Boss Mustang, AAR Cuda, Z28 Camaro or T/A Challenger on the streets and in the dealerships of middle America. Over 40 years later the limited edition Trans-Am Javelins number less than fifty percent of their original production numbers, however they remain an untarnished representation of American Motors glory days. TAJavelin.Com